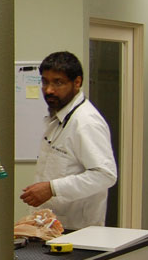 Veterinarian
Dr. Deol completed his veterinary degree in PAU, India in 1989. After moving to the USA, he completed ECFVG Program, Alabama in 1996. He started general practice in Cleveland, Ohio and later moved to Modesto, California.
Dr. Deol moved to the Desert in early 1997 and has been serving the desert at the Animal Emergency clinic, and the Eldorado Animal Hospital for the past 10 years.
Dr. Deol enjoys all fields of small animal practice. He has been married with wife Harminder for the past 14 years and has two children, Amarpreet 14, and Jagdeep 10. He enjoys camping, fishing and spending time with his family. He is a member of AVMA,CVMA, VECC.